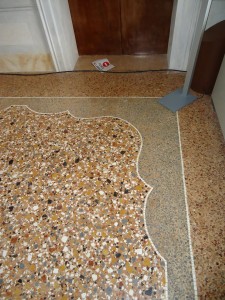 The floor made with Venetian terrazzo is entirely made in place, thanks to technical skills but also through the love and passion that the craftsman has for his job which is considered a work of art.
The technique of binding, extracting and replacing borders without damaging the existing borders of the terrazzo or the one in progress, involves careful concentration and proved experience that determines the perfection of the final result.
With their skills and experience handed down throw centuries, the craftsman achieves to harmonize the ancient and the modern age, realizing a unique pavement in answer to all clients needs and requests.